We want to talk to you more than once a year. In fact we want to be there to help you make decisions that will grow your prosperity and achieve your goals. We want you to have all the relevant information before you jump in to big financial decisions. That means being proactive and taking the time to know you, your goals and personal circumstances that should all be considered when making these big decisions.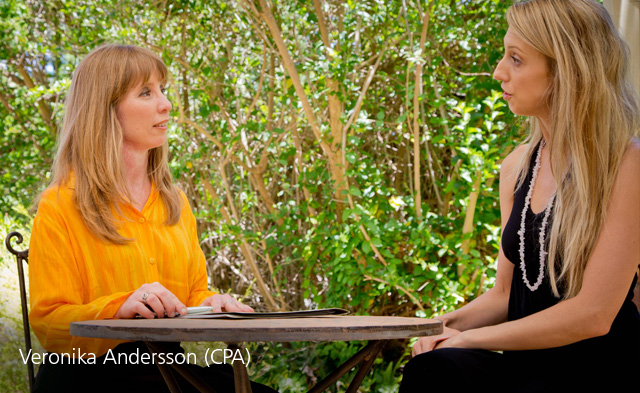 Your wellness accountant has the potential to be a very useful and important team member in creating and growing prosperity for you individually as well as for your business.
Vavee achieves this through monthly meetings and regular contact between those meetings.
Discussions during these meetings include:
Identifying your own personal values and what motivates you
Your long term goals and aligning them with your values
Aligning these values and goals with your business partners and team members
Breaking these down into strategies, and further into tasks that can be achieved between the scheduled meetings
Preparation of budgets and other reporting tools that can document and provide feedback on your results
Referrals to other specialists and experts within the Vavee community
Veronika Andersson (CPA)
Veronika Andersson (CPA)
Interestingly enough, attending to these tasks makes the mundane aspects of tax and accounting a very minor inconvenience, rather than the dark heavy cloud that causes so much angst and procrastination for clients of other accounting firms.
If you need a partner in business, rather than a just a tax agent, Vavee Enterprises should be your first choice.
---
Testimonials
We have searched Veronika through our network marketing groups/business as we were looking for an accountant who is well versed in explaining the tax effects in network marketing businesses. We are so pleased to have worked with her as her and her team's services are so prompt in facilitating our tax most especially this year that we needed to submit it in such a short amount of time.

Veronika's expertise will surely help anyone out in doing their tax in a very efficient manner. Thank you very much once again to you."
Nicko and Jenn Filter
Harrisdale Western Australia
---
Veronika and her team have been my go-to in the time I have owned my own business and continue to also take care of my family's personal tax too. From business advice to personal tax advice I see Veronika as a trusted advisor.

From advising me on the best way to structure my business – throughout my business journey to how to forward plan and make the smartest financial and tax decisions for me has been much appreciated.

Working with someone like Veronika has meant I can concentrate on what I am good at – delivering my service to my clients – and she can support my business.

Investing in a good accountant is essential in small business."
Lorelei Campbell
Director of Hola PR
---
I have been involved with Veronika for numerous years when working together on mutual clients. I have always found Veronika easy to work with. She has a good understanding of the client's requirements as well as the relevant tax legislation, and she always operates in a thoroughly professional manner. Since Veronika has started up her Vavee Enterprises, it has brought a new dimension and vitality to the services that she can offer our mutual clients. I am happy to continue with Veronika in this manner, and hope to expand the use of her services in the future. I would have no hesitation in recommending Veronika and Vavee Enterprises to any prospective tax and accounting clients. Best wishes for the future, Veronika."
Will Suffell
Admin Accounting
---
I am not an expert in running a business, and having Veronika mentoring me and my partner has been an essential part of our success!"
Alisson Sandi
---
Veronika has been our Accountant of choice for well over 20 years. When Veronika decided to open up her own Practice, we had no hesitation in transferring our Business to her. We receive prompt individual attention and advice that is always in our best interests. We highly recommend her services."
Len Mijat
Managing Director, Roklen Investments Pty Ltd.
---
Before I met Veronika from Vavee Enterprises, I had never taken a proper look at my finances. By having a spreadsheet prepared for me to fill out for my various work and business expenses, I was easily able to see whether the business was making a profit and where my income was going.

The thing that sets Veronika apart from other accountants was that she took the trouble to meet with me to discuss my situation, prepared my tax taking into account things that I had never even considered because she took the time to connect with me and find out about me. Veronika goes above and beyond the call of duty, always thinking of her clients both in financial terms and in human connections. I have met amazing people through her that have helped my business grow.

If you are looking for someone to help you out with your financial organisation, someone who takes an interest in you and your situation and is willing to put you in touch with others who can add value to your life and business, then Veronika is your lady."
Tania Johansen
Teen Life Coach, Sail Through Life
---
Finding an accountant I can trust has always been an issue for me in business. My experience has been that the good ones are too busy to help, unless you're corporate.

Since forming our company in 2012, I have relied heavily on Veronika and her team, as my business accountant and financial mentor. I often have complex questions, and she is always able to assist me, or connect me to her network of financial specialists for advice.

However more than simple domain expertise, she is just so easy to work with, with a can-do attitude, but always operating within the appropriate legislative and ethical frame-works. She is accessible to meet you where you are at, and then move forward with a plan for your your personal and business journey."
Nick Jerrat
Managing Director, Publish My Web